MONGOLIA
Bill has just left for a motorcycle trip through Mongolia and Russia. He will be beginning his journey on the bike towards the end of this week. Bill will be traveling with his SPOT tracking device (hopefully turned on), once he begins the riding part of his journey you will be able to see his progress by following the link below.
Ok! Here we go again! Back to Mongolia! Currently in transit to Ulan Bator. Already started off a little bit shaky. Flying Japan Airlines to Tokyo then Mongolian Air to UB. But...got the flight to Haneda, Tokyo and my Mongolian departure was for Narita, Tokyo :( An hour and half Taxi ride later and... I arrived Haneda airport. I was met by a lovely Japanese woman who informed me that my big bag with all the goodies didn't make the flight! So we look at all the options including staying in Tokyo to wait for the bag till mañana. In the end I opted to go to UB and get the bike ready to proceed to Russia and Vladivostock. Fortunately the new tires are with me and I can start to work on my customs issues while waiting for my other gear. Unfortunately ALL my personal things are in that missing bag. I don't even have a jacket! -Stupid should hurt.
Soooo it's been a while since an update. Little bit last year when Chris Carter from Motion Pro and I rode from San Diego to New York re-tracing the route of "Cannonball Baker" to the day, 100 years after he did it for the first time on a Indian motorcycle. Famed Don Emde Daytona 200 champion put the ride together.
Some of you may remember that I left my BMW in Ulan Bator 4 years ago after traveling there for 3 weeks including a side trip to Siberia, Ulan Ude and Ikustk, Russia. I left my bike with a guy we met in UB who had helped my friend with a fuel pump for his GS. He was kind enough to store my bike, in his heated garage, at his condo complex. Since then he transferred back to Canada and handed my bike off to another tenant who kept it for a couple of years till he transferred to the Canary Islands. True shit! Can't make this stuff up! Now the new tenant, with the help from my assistant, helped me find a mechanic to pick up the bike and go through the fuel system. Fortunately it looks like we only need to dump the fuel, clean the tank, new fuel filters and battery. We'll see!
With My RTW bike sitting in Mongolia I have been focusing on Wheelchair distribution. I noticed while reading my blogs from 4 years ago we were at 5,000 chairs delivered. Now with the help of my friends Don and Josh Routh we are at over 9,000 with 24 countries and 32 international trips to Central and South America! We have still continued to Support El Oasis orphanage in Baja, Mexico and have ridden with Malcolm Smith and Alexander every year from Ensenada to Cabo to raise money and awareness for this noble cause. Also, some new riding adventures in Colorado on the Colorado 600. An event designed to help educate the masses on the importance of keeping trails open in CO. The format is symposium breakfast with speakers from the forestry and local clubs discussing what can be done to assist these guys with their battle against the "Greens". Then shitloads of riding over and under logs and single track. Don Riggle and Stan Simpson (past AMA pres.) put this invitation only ride on and do an incredible job at bringing some of the best riders and supporters of open space riding in Colorado. Bunch of new bikes, track days, a divorce and new girlfriend brings us pretty much current. :) On Mongolian Air now headed for a new adventure!! 5 degrees Fahrenheit when we landed last night and all I got on is my black T! :)
Good morning all,
The latest update from Bill is below. Now that his journey has started you can track his progress by clicking the link below to his SPOT tracking device.
Day Three. Still in UB.
Read More
The big goal today was to try do anything possible to make my border crossing as painless as possible and to insure that I would even be able to cross and not get turned back to UB. Because either I could not communicate my story on why I left my bike in UB for four years, or that they would figure out that when I did enter Mongolia from Russia in 2011 my Carne' DePassage was already expired. (The carne' is not currently necessary) but it's the only document proving I passed into the country legally with my bike. Anyway, if you read the previous blog from four years ago about the difficulty in dealing with border, "Mongolian border crossing", when all my documents were in order you can understand my trepidation in returning with questionable documents.
Good news! I'm a lucky MF'r
Read More
After having a few setbacks already this week, I have been keeping a positive attitude and as always it's seems to be working! On the flight from Tokyo/Narita on Mongolian Air I met some sort of "big shot" with the government. He said that he and the Prime Minister we bestie's and that my border issue was going to be "No problem" then he would repeat "No Problem". I said what about this or that? Again, "No Problem". Now I failed to mention that he had drank all the Crown Royal in first class and there were only 3 of us up there! The flight attendant seemed to know him like he was a regular. When we got off the plane there was someone to meet him to expedite him through Immigration. The only problem was that after his little nap he wasn't near as friendly and I wasn't sure he remembered our little conversation and funny? His English was a little better before his "nap":). Fortunately, I did get his cell earlier and also a copy of the head of check points and border control's business card that he was caring. He didn't have any of his cards with him... After I passed through immigration he was nowhere to be found. Still I had a number and in an emerging country like Mongolia it almost always who you know that gets things done. So I considered it a good maybe. I would call him later and see if there was anything he could do to help get me out of Mongolia.
More luck, one of the reasons I like to stay at large international properties, when available, is access to people who generally have a command of English language. I met a fabulous woman at the front desk who has been my "fixer" at the hotel. She helped me sort out getting outfitted for Mongolia from my still missing baggage. Toiletries, Jacket etc...
After I left some texts for Mr. T from the plane he texted back to have a translator call him. My friend, from the front desk, called Mr. T and once again he told her "No Problem!" When I get to the border just have the highest ranking officer on duty call his cell phone and he would take care of it. A little bit of peace of mind, nothing concrete but still better than nothing.
Yesterday, my friend and I called a number I had saved from my last trip four years ago. Listed in my contacts as "Mongolian customs fixer" he was a gentleman who helped work out the issues last time from the Ulan Bator customs, when we shipped our bikes from Singapore. More Luck! He remembers our plight and now he's stationed at the Altanbulag border! The border I will be crossing on Sunday! And... He's working Sunday! Livin' Large!!
He says let him check into it and call him back in an hour. I go shopping for a new sleeping bag. See a white guy walking past the hotel wearing hiking boots and a back pack. I ask him if he know of any serious adventure stores and he says "sure! Follow me!" Craig and I start chatting and it turns out he's a teacher from Australia with a group of seniors on a leadership training program for a month. He also works with people with special needs and is traveling next year to Peru where I just got back from delivering wheelchairs? Crazy huh?
We walk about 100 yards go through an unmarked door to this little shop that is obviously a serious outfitter. Super nice lady running the place and talk about sleeping bags. Craig confirms that it's been f'n cold at night. I'm concerned about the bag I brought it's rated for high teens but that doesn't mean comfortable- just means you're probably going to live. So I invest in the baddest ass down bag with extra silk bag liner. Craig's said that the liner is good for a couple of extra degrees. The new bag, an insulated mat and my already good quality one-man tent I can be comfortable in the teens and survive single digits that I will defiantly experience in Siberia. I return to hotel call Mr. ZUL and he advises that I go to the Customs Office in UB and speak with an agent about my situation. He suggests I tell them that I had a catastrophic failure and that's why my bike is still here. Great! The truth! So I get in a taxi and head out for customs in highnoon traffic. Now, none of the taxi drivers speak a word of English so you depend on the doorman to translate your destination and hope for the best. When we get to yet another unmarked building he announces "this it". I end up in the wrong building and after a few minutes with a bank teller I go outside and the taxi driver now says it's the other building:) all part of the adventure tour! So I go up some stairs to another door and sure enough it looks like the right place. Problem now is that it's almost lunch time when all the government agencies are closing. Nice lady comes out looks like she's ready to go but she reviews my documents and asks why I left my bike in Mongolia for four years! I explain, she says, wait here. A few minutes later she comes out and asks what border I want to leave from? I tell her Altanbulag and she disappears and returns with the frickin Golden Ticket! Says I'm good to go and I get out there before she changes her mind! Yeah! Back to the Hotel, then out to the Flower center, to get a giant bouquet of flowers for my hotel fixer! Then I head back to the Fed-Ex guys I picked up the battery from to figure out how to send some of my extra gear back. Now, back in a taxi to finally get my bike! When I get there the place is all locked up. I check some of my numbers and text J the shop owner and he replies that he is in Dubai and that his mechanic had been trying to reach me to come back Saturday. Another day lost but the good news is the bike is running and it looks like I can still make the border Sunday. So it's back to hotel to wait until it's time to go back to the airport to retrieve my lost bags. Japan Air has confirmed that after 5 days my bag we be on the plane arriving at 8pm… And it was! When I finally unpack everything I have and spread it around the room I realize I have way to much gear to fit in the bike and as always I'm trying to keep it light, but also have every contingency covered. One problem is that I had kinda forgotten what I left on the bike. I had my usual list of bike needs that I make when I leave the bike somewhere but not what's on the bike list. I now have two complete tool kits, two tail bags and two tents! Bad planning on my part! Good news is tomorrow I get my Bike! (Hopefully:)
I picked up my Bike Today!!
Read More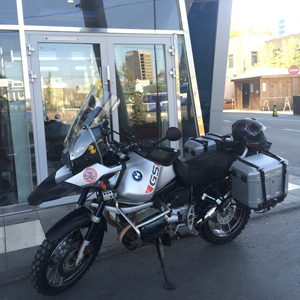 Only a little excitement today. Up early and breakfast at 7. Believe it or not I haven't done any partying in UB. Just trying to be prepared for this trip and it seems like it takes all day just to get a few things done. That with the combination of jet lag and the time difference I'm crashing early and waking up in the middle of night. Last night, after sorting out my gear that finally arrived, it was about midnightand I thought I would go down to the night club in the basement of the Hotel and have a nightcap. Well the elevator door barely opened and I could hear a bunch of drunk people (I mean wasted) sounding like a fight was about ready to break out. I pushed the "Lobby" button and decided that this club was not the place for me. Must be getting old! My friend Don R. said it would happen... but I always thought "not me!" There is another club next door to the hotel but when I went outside side there was a bunch of people piling out of there like there might be another fight going on inside da Club! …Thirsty to bed I went.
So I meet Unu at the bike shop at 10 and he lets me work on my bike and added a couple of Ram mounts to the bike to hold some new electronics I brought for the bike. Garmin Montana 650t with Russia world map loaded to compliment my Zumo and we shoot the shit for a while. It's a beautiful day here almost warm and as always the bluest ski you will ever see! Forget about Montana big blue sky, this is Blue Sky! The shop is located in a residential area that is a little bit remote but well stocked with all the right stuff. Great selection of all the shit you would want to buy. Makes Cycle Gear look like a joke. If J is doing the buying, he's doing it right! Uno and I shot the shit for a while. I worked on the bike in the shadow of the warm sun, a perfect morning!
I fired up the bike and it felt like it was running well. I say felt because I'm still a little bit nervous about the fuel pump and micro filter. We took some pics then I followed Unu to the fuel station to fuel up. I wasn't wearing my earplugs and heard a bunch of different noises coming from the bike, like the fuel pump priming and the tic tic tic of the valves? Just paranoia or something real? Fueled and headed to the hotel to find a place to secure her. So totally stoked to be reunited with the bike I have traveled 37 countries on. I just hope she can make Vladivostok. So I'm back at the hotel looking over maps taking advantage of the Wi-Fi and tripping on routing details when I realize... Fuck! I left my Spot on the concrete wall outside MotoSports Mongolia!! I was trying to "tag" the location for Muchobill.com and forgot it!! I call Unu and he says he will come over and pick me up and go back to the shop but he's at his other job and can't leave for another 30 minutes. I tell him "I got it" I go down stairs and get a taxi. Its midday on a Saturday and the shop is in a rural area and the already shitty traffic is absolutely crap! The whole way there I'm trying to visualize it being where I left it just hoping that it's still there! This combined with my already paranoid feeling about driving across Western Siberia with a marginal fuel system and no Spot to at least help show somebody where to locate the "body". 45 minutes later and sure as shit its right where I left it, ticking away. Another frickin miracle! Back to hotel. Work on the bike in the hotel underground parking lot. Prep all my gear and arrange shipping for all the extra stuff. Now sitting in the hotel restaurant. Bike is loaded. My plan is to be on the bike by 7 and travel the 300km to the border. The front desk told me that it was -5 degrees Celsius this morning! But I got a total of 600 Km to travel to get to Ulan Ude, Russia and my previous worst Border crossing ever! Cross your fingers and wish me luck!!
PS. Sketchy Wi-Fi ahead. And not sure when I will be able to do updates. A shitload of unknown miles coming! See you on the other side!
Ulan-Ude, Russia
Read More
Set the alarm for 6 to be on the road by 7. Feeling like crap! The plan was to start heading east to the town of Chita. Another 10 hour ride. The last town of any size before I head to the 1500 miles of eastern Siberia. But not feelin' it. Feel like I gotta make some time up but need to do some housekeeping before I leave civilization. Noticed cracked frame mount yesterday and "Jerry rigged" it. Should really have it welded but thought it may hold and didn't want any problems from welding on a bike in the middle of nowhere with all the electronics and ABS.
That and I can only get the equivalent of $100 out of an ATM at a time. I wanted to go to a bank and exchange my Ben Franklins for some Rubbles. Where I'm going cash is king. So I decide to sleep a couple more hours...and get my shit together. Make the Hotels crappy breakfast at 9:30 and head to the bike and evaluate. I decide to "phone a friend" John Sawazhki and get some advice and more:) after some verbal love and looking at the pictures of my "road repair" he encouraged me to go ahead and get it welded. Sounds easy, huh? Well I'm concerned and nervous that my trip that had been a lot of work so far could end. But also don't want to trip every time I hit a bump in the road that the entire subframes gonna go down on the rear wheel at speed.
So I ask at the front desk, and the girl asks the doorman (who internationally is always the guy that knows! Points me in the direction of the industrial zone. I drive around looking for a Muffler shop or any shop that looks like it may have a welder. After a few attempts of pointing at the break and miming welding movements I get directed to the guy in the "green" overalls and sure enough mimes I can do that. He's a no nonsense guy. John gave me explicit directions on what to do but every time I try to interject he says NNet (?) Then I get out my phone for some pics and he says NNet! And shakes his head. (Like Crazy f'n American!) He jumps in, cleans the area to weld, disconnects the battery to prevent shorting out the electrical and welds away.
I'm stoked! Can't believe it's actually done. Oh ya, when I ask how much he says 500 Rubbles, the equivalent to $7usd! Thanks John for encouraging me, I probably would have just moved on and worried about it for the next week. Now back to the hotel to sort out my gear, go to the bank and get ready for tomorrow! Chita! Feeling awesome! And finally ready!
Sitting in the lobby bar in Russia!!
Read More
Made it! Left the Blue Sky Hotel in UB at 7:15am almost no traffic and did a "bomb run" to the border!4 1/2 hours of cold but not freezing.
First day on the bike on a trip like this is always a little bit problematic. Even though I feel like I've done it a zillion times. Balancing the gear on the bike, trying to not bury something you may need a bunch of times.
Then it's the same with your gear. Earplugs before helmet. Gloves after helmet cause you can't buckle it with gloves on!
Great ride to the border! Bikes running great and that's good news! I was little bit concerned about the amount of lacquered fuel that was in the tank when I first met Tugsuu at the shop. Also, later Unu had said that they had tried to start it after all the time and I concerned that the fuel pump or injectors may have been clogged with crap. No Worries! She's a runner! Didn't quite get the weight distribution right in the bike. Too much in the tail bag, front felt a little bit vague. Work it out tomorrow. Also the shop set the air pressure in the new knobs at 25lbs good for dirt but not for a lot of highway with this load so first gas went to 35lbs front and rear. Wearing base long sleeve under armor, Dainese wind blocker mid layer, electric vest, BMW adventure jacket with water/windproof liner in. I feel like Ralphy's little Brother in The Christmas Story! "Can't put my arms down!"
Found some awesome tall socks from Rev-it called winter extreme or something like that? That and a pair of ankle wool first layer kept my feet cold but bearable. That's good cause can't fit anything else in the boot! 4 years ago riding here my feet turned purple and would take all night to get the color back.
Golden Ticket!!
Read More
Racing for the border to get in before the dreaded two hour lunch break. Sunday? Thought it would be the worst day ever to cross a border? But apparently truck drivers stay home with family. Idled up to front of the first que of cars waiting without much protest from the people waiting and the guard even motion me forward. First check in at the shack. He looks over your docs, passport and ownership papers. Then he gives you a little slip of papers that becomes to you like the Map to your treasure hunt for signatures. First, it's just check in and go through the oldest metal detector I've ever seen. I light it up like fireworks with all my gear on! Nobody blinks or nothin'. Then its Immigration the lady on the other side of the window is talking on her cell sitting in front of her on speaker. She's going through the motions and doesn't even look at me before she stamps my passport and hands it back to me. She could be the "employee" of the month at my local DMV. Then to customs she look over my docs and looks in the computer says something to girl next to her and gives my things back with you gotta go see somebody else look... Takes me inside to the manager dude, he looks at my docs and looks at the computer and looks back at me then calls another guy over and he looks at the docs and the computer then calls looks at me and says in broken English "you come back to Mongolia? I say "no, just want to go!" He looks at the "golden ticket and says where you get this? You know her? I say yes! "She's my friend in customs in UB J" He gets out his stamp, bangs it down, and says "Outside! You go back to Customs." I go see the young lovely and she looks through everything again and says "ok". I say "ok" and she nods. I say I can go? She nods again. Then her friend says something in Mongolian and I'm off to strip search of my bike!! One too many "I can go?"
After the search and 100 yards of no man's land to Russia! After four long years of anticipation I'm out!! Now it's The Russian border. Efficient and orderly. Never even leave the bike! Just process me and the bike at the guard shack, rudimentary search, and I'm riding my bike again in fricken' Russia. Find a gas station and ATM for some Rubbles and I'm off for a 250 km ride to Ulan Ude, and it's only 3 pm. Sweeeet!
7pm and check into the same Hotel Baikil I stayed in 4 years ago. Secured the bike and crash! Fell onto the bed with all my gear on and slept for an hour. Woke up still feeling burnt. I think that all the activity over the last week and anticipation and angst over the border crossing and the feeling of relief of being in Russia I just needed to sleep. Got up went down stairs to the lobby bar and now falling asleep at the table waiting for my steak...
Ulan-Ude to Chita
Read More
On the bike at 7:15.
Wearing everything I brought same uppers and I explained yesterday. Added a mid-layer over my long bicycle pants with the padded but for comfort and to prevent the dreaded "monkey butt" - more like baboon ass! There's even a guy we met in Baja who makes a powder called Monkey Butt, but I think the best to prevent it is Gold Bond medicated green bottle, it's hard to find but:) , it does the job! So yes it's freezing ass cold out! I head out of town and besides being a little constrained by all the gear I'm comfy warm. No traffic and decent roads meandering lakeside out into Eastern Siberia. Some truck traffic which is always a good sign you're on the main road. Sorry no pics:( only made one brief stop for fuel and burned down the highway. Never quite sure of the ETA even with two Garmin GPS's they never agree. This morning they even had conflicting routes! The maps are just not kept up in this part of the world. Russia has been busy paving this section from Ulan Ude to Vladivostok and the tracks for the GPS just don't jive. Sadly the most accurate is Google maps on my iPhone, but sketchy Cell and 3G make it useless on the road. Still it's a great planning tool.
Was so happy I got the frame welded! Lots of construction on the highway and a lot of dirt sections with big step ups and G outs. I would have spent the entire day tripping on the frame coming apart. Also, a secondary benefit was that when I was going to wing it with my road repair I was dumping any non-essentials. One of which was my big bottle of Jack Daniels, but this morning in the bag it went! (Enjoying right now:)
240 to first gas then final 260 to Chita. Actually warmed up enough to turn off the electric vest and got in before dark. Both GPS took me into the city the wrong way. Looks like Cold War Russia in some places here. Giant grey tenement housing complexes everywhere. I wander around town for an hour looking for anything that looks like a Hotel. I'm tired of being on the bike and getting frustrated when I finally pull over and take of my helmet and Google "Hotels Chita?" And sure as shit it brings up a map with my location and 3 hotels within 100 yards! Then a guy rides by on a sport bike when he sees me he turns around and motions me to follow him? I want him to stop and get his recommendation on the hotel but he just kept waving me to follow. He finally stops in front of a hotel and takes his helmet off and says this is a good hotel. "This is where the bikers stay" I ask him how he knew I needed a hotel. He said that the news was out that some guy on a big BMW wearing "road gear" was riding all over the city looking for a hotel so he went out to find me. Lucky lucky! After getting me checked in he takes me over to the main drag where there are a bunch of young guys with all kind of Jap bikes, bikers wearing leathers and he says these are his club riders. Now waiting to go to dinner and drinks with them:) Little concerned, big day tomorrow again, supposed to rain and everybody knows you don't drink with Russians!! -Mucho
Chita! Siberia! To Mogocha!
Read More
Set alarm for 6, peaked cautiously out the window to see that it was indeed raining. Well that sucks! Don't really mind riding in the rain and I certainly have the correct gear it's just that I hate loading the bike getting all my gear together in the rain. You get wet before you even get started. I'm on the bike at 8:30, late start but was hoping it would clear- instead it appears to be worsening. I waited just long enough to where now it's Dumping! Big ass gust of wind and the streets are flooded. The GPS says turn at such and such street signs?? What street signs? That combined with my eye glasses fogging up and my helmet visor. Even though this morning I coated both with a product called "No-Fog" total B.S.!

Fiddle farting around with GPS and cars going by me totally douching me in the flooded streets it a great start! What I should have done that I used to do in South American big cities was to hire a taxi at the hotel and follow him to the freeway. Problem is I wasn't able to communicate this odd request and got frustrated with front desk not understanding. I'm now wishing I had been more patient cause the damn GPS says "turn right, turn Right, turn right then make U turn!" I finally zig-zag my way out to the main road and now beside the downpour the wind is gusting at 30mph. You know your F'ed when all the big trucks are pulled over on the side of road in fear of being blown over. I'm doing a serious "Kansas Lean". This is when you and the bike are leaning into the wind while crabbing down the road. Works good till the wind lets up for a second and you head shake upright just in time to get hit with another blast of wind. Or... A Semi passes from the opposite direction and breaks the lean and you veer right for him.

Tons O' Fun!:)

Did I forget to mention?
It's frickin freezing! I look down at my odometer and its reads, 16 miles! Only 450 miles to go! I get turned around at an intersection and stop at fuel station to confirm my direction and the attendant agrees, I'm pointed in the correct direction, then looks me up and down, and follows up with a smirk and shakes his head. Should have been a clue! 30 minutes up the road the rain turns into a face stinging hail and 30 minutes after that it's a snowy blizzard. The snow is sticking to the side of road and I stay in the truck tracks for a while until I see a car ahead almost slide off the road. I pull over and put my foot down and almost dump the bike. The road is now ice. Shit!

I pull the map out but can't seem to find where it summits. The elevation on the GPS has been climbing I am at 5500 ft. and can't tell when it going start heading down. I barely got the bike turned around without dumping and turn back. At this point I don't really have a plan...I'm freezing, frustrated and just want to get off the mountain without crashing. I make my way past the gasoline attendant who is sitting inside sipping hot cocoa, or tea, or something next to the heater but I don't want to give him the satisfaction so I sneak on by. Get to the intersection. One road back to Chita, forward back 500 miles to Ulan Ude. For a moment I contemplate heading back the way I came and head West to Europe but I have no idea if the weather is going to be any better that way. And it's ten days of riding. Nope, bad idea. I see a little market with a kiosk outside that looks like it may have coffee so I park in front and the sweet lady looks at me like everybody else "Crazy American!" But she sees my pain and gives me a giant cup of tea and refuses to take payment.

So I'm standing there in the rain and people are staring, but nobodies catching eye contact. I'm not really looking for anything it's just funny how they stare until you look at them, then I smile then they immediately look away?

So I decide to try and reach the guys from the Motorcycle club that I went out with last night and get no answer. My thought now is to buy a UWE, a cute little 4wd Russian jeep with a truck bed, and drive with the bike the 2000 miles to Vladivostok with a heater! New adventure! Then sell it there, but I'm not getting through and I'm still standing there and it's still raining. a hunter looking guy walks up to me and makes the universal hand sign for motorcycles. Basically, it's hold up your hands like your holding imaginary handle bars and rev the imaginary throttle:)

So I smile shocked that a stranger has approached me then he says something in Russian. I make the international sign of I got no idea what you're saying. Smile and shrug my shoulders while simultaneously shaking my head side to side:)

So he pulls out his phone and is going to "phone a friend" who speaks English. I know this cause I've seen it before. He hands me the phone and the guy starts speaking broken English. At this point I'm still wearing my head condom (sock over head to keep the heat in) can't understand a single thing he's saying. I try to say its ok, I'm good! and he yells back "You must talk verrrry sloooowly". And I say gotta go, thanks and he says "wait!" "Talk to my friend his English is better than mine!"

No, not really... We end with thanks for the help. I'm waiting for the guys from the Moto club to call me back.

Then my hunter mimes one more try - I like this guy! He's persistent and I think he really does want to help me. So again with a new guys broken English, but this guy says wait there! I'm coming down to the market. A little while later a guy pulls up in a beat up rusty Toyota. Out pops a guy who introduces himself as Dimitri. He says his friend Ure (hunter dude) is an avid dirt bike rider and would like me to follow him back to his cabin where it's warm and we can drink Vodka and take a real Russian Sauna. Then makes the Russian sign for getting drunk. You kind of flick your thumb at your neck. Closely resembling "cut your throat". (Learned it last night)

I think! Great! I'm cold, wet and now I'm gonna have a Russian version of "Deliverance". Dimitri then calls his "Girlfriend" (that was reassuring) her English is the best so far and I explain I would love to hang out but I really need to work on solution for getting out of here! After some coaxing and insistence, I say what the fuck! It's been an hour or so standing in the rain. Haven't heard back from the boys. I agree to take the bike to Ure's house and Dimitri will take me downtown in his truck to locate a vehicle for me and the bike to drive to Vladivostok. We drive back into the snow where I just came from turn onto a rutty, clay mud uphill dirt road towards the cabin. Now in case you forgot I'm on a 650lb loaded bike! Dimitri, obviously not a dirt bike guy is going slow. I guess he thinks for me and the one thing you gotta have on a big bike in the dirt/mud is momentum. Besides that, I can't see passed him to see the good lines and keep dropping into giant mud holes! All part of the adventure tour! We get to Ure's house and Dimitri jumps out and opens the gate to the property then motions me to the shack to park the bike.

All good!

We get in the truck and on our way to town Dimitri says "how about the train?" I say with the bike he says! "yes". Now, I know from reading about the Trans-Siberian that you cannot take bikes on it, but maybe if you're Russian? You know somebody? Who knows? So we go down to the train station and go out behind to an unmarked door? We go inside and Dimitri starts working the young girl with his charm. Turns out Dimitri is a bit of a Ladies Man! This time all we get is head shaking and Nyet,nyet, nyet. No bikes on train.

So then he says "let's try freight train and you follow on Passenger train." Then we go out behind another building and find the freight logistics trailer.

Another door nobody but a Russian could find. Inside "No pictures please". This guy is no problem, no Problem. 15,000 Rubbles. About $300 USD. I ask if it included crating he says yes. Dimitri motions me not to commit so we say ok check back later. When were back outside he says let's try trucking? Maybe easier to crate up? Ure knows a "guy". But First! It's time to go pick up his "friend". So we drive to one of these non-descript gray apartment buildings- one of thousands!! out comes this guy with a black leather jacket wearing dark sunglasses. He climbs in the back of Dimitri's hoopty and we drive off. Dimitri says "my friend might have gotten together with some bad people's girlfriend" he motions him to remove his sunglasses. We're taking him to the doctor to get checked out. His hands are also jacked! Dimitri says "This is Russia?!" I belly laugh! It's a phrase I have heard in almost every country I have ever visited, from taxi drivers to diplomats.

So we drop his friend off and head to the trucking company. Now let me also paint a picture of the situation. Big white guy in full Moto gear walking around Chita with a Russian dude in a beat up Toyota truck in the pouring rain. Every time we stop Dimitri gets out and has to wiggle something? under the hood to start the truck. The floor boards are rotted out. But u don't care! It's all part of the adventure tour! I'm am so grateful that he has sacrificed his entire day, helping a complete stranger! I can also say that I am smiling from ear to ear! This is exactly why I love traveling on motorcycle. There's a worldwide club of us out there! Most of who you may never meet, but they are always out there to help anytime, anyplace. Even if Dimitri is the friend of the Biker...

We laugh and make jokes that neither of us understand but we nod our heads in hope of getting it sooner or later:)

We get to the trucking company and go inside the trailer and it's like A Miss Russia pageant! 6 desks, all stunning, wearing Gucci and Cabana. High heels and short skirts in a Trailer at a trucking company in the rain! I mentioned earlier that the Russian girls are not openly friendly. In fact, down right frigid to strangers. They have taken a page out of American Housewife's on Bravo and have perfected RBF. Resting Bitch Face.

But when we walk in the room/trailer Dimitri, my smooth taking friend, says something in Russian and they giggle and Blush! There even kinda smiling at me! (Dreamer) He explains our problem they say "yes,yes,yes. Crating included? Yes. 23000 Rubbles about $445 USD. Deliver in Vladivostok in 4 days. My train ride is 3 days. Perfect! Even though it's more money it's an easy drop off, pick up. The delivery is to their Dock in Vladivostok. Hopefully the freight forwarder to Anchorage can pick up there and ship. Back to pick up the "lover" with the black eye from the doctor, all ok. Drop him off at a non - descript office. Now it's time for lattes, remember I'm downtown city central in full Moto gear now going to a fashionable coffee house full of hot Russian woman and its pouring rain outside. They try not looking but can't help themselves, looking at my odd clothing. I feel like I'm wearing heavy Goth clothes and makeup in Oklahoma. Best part? You can make them stop by looking back at them! So now the bike is handled we head back to the train station to secure my tickets to Vladivostok. I buy two tickets to secure a private cabin and set to leave tomorrow at 2pm.

I will arrive Vladivostok in three days and two nights. Sweet!! Now it's back to Ure's to get the bike and take it to the shipping company tonight instead of tomorrow cause I'm still wearing my Moto clothes! It's now 7pm it's also been snowing for about 3 hours. I unload all the gear from the bike. Repack necessities and don't want to leave on the bike. Load into Dimitri's truck. Put on my helmet and head down the mud road to the road road.

Can't see shit, my visor useless, glasses fogged immediately, I push down my nose, squint between the windshield and ice piercing my pupils. I had informed Dimitri about not going too slow so now he has just gone and I can't see a thing. My headlights are fixed that they are aimed low, because this bike is always caring a load. So now the headlights are pointed straight down. More giant mud holes later and bad tracks I find him at the main road. To the loading dock, ride the bike up the ramp and into the warehouse. Meet the guy who is going to build the crate for the bike. Bunch of other guys interested in the cargo. I remove the ground from the battery, removed the side bags to ship with the bike on the same pallet.

Big day will finish later.

-Mucho

Had some guys put the bike on a pallet and build a crate around it. Usually this can cost $300-$500 just for crating. We're getting freight and crate for $400! Also won't have to try to negotiate by myself in Vladivostok. Back to the office take care of paperwork and were done. Plan now is to get me a hotel close to the city center so it's an easy trip in the morning to the train. It's 8ish now and I'm fried, still in all my wet gear and just want to crash. But I have invited Dimitri and Helen out for an appreciation dinner- so hotel shower and shave then meet for dinner. Nope... we stop short of the hotel and meet Helen for dinner now, still in all my gear! A great meal of traditional Russian delights. Drinking Vodka with my new friends and generally feeling happy about the day's events. The sayings "timing is everything" and "everything happens for a reason" come to mind. That and my personal life motto "You don't know till you go!"

The 3 days I lost in UB Mongolia, the extra day in Ulan-Ude, Russia to weld the sub-frame caused me to miss the weather window of opportunity to make this route possible. When that snowy summit turned me around it really just opened up an opportunity for another adventure and new friends in Chita,

Russia - Who I will never forget!!
Chita! Still here!
Read More
Wake up this morning a little bit regretful wondering if I have made all the right decisions? It all happened quite fast yesterday. When I turned around before the Summit yesterday I had no intention of stopping. Just needed to regroup. Doing the shoulda, coulda, woulda now...Never healthy!

If I had just gone back to the hotel and waited out the storm would I have been able to ride my bike to Vladivostok? I look out the window and say to myself "not today!" The streets and rooftops are all covered in snow. It's snowing lightly but doesn't look like it's gonna stop anytime soon. When I asked about snow in Chita my Moto Club buddies said "no! Almost never" Welcome to never :)

Chilling out at the hotel. An Upgrade from previous night's stay. I had seen this hotel after I had already checked into the hotel I stayed in last night. Close to downtown and a "pub" across the street. Organizing gear (again:) down to 3 bags including helmet to be able to carry on the train. I carry a rolled up duffle bags for this purpose. Have mediocre breakfast at hotel then around 1pm Dimitri has come to deliver me to the train station. It's completely snowing, big flakes, and Dimitri's windows keep fogging and has no heater or defrost so I am the designed window wiper guy to the train station. As a special gift I hand him my "No-Fog" special coating cloth :) he says "thank you! thank you!" I say "it doesn't work!! It's just a Bullshit American product!!" He laughs! Understands? Not sure? But we're laughing so who cares! We get to the train station, the train is delayed for weather? No surprise. We're hanging around and Helen shows up with her niece to also see me off. The train arrives and Dimitri takes me down to my designated train and does some more lady magic with the conductor. Gets me set up on the train after making sure all the ladies were to make sure I was taken care of. We say adios! I'm truly sad to say goodbye to my new friend. He says some things in Russian then tries to translate to English. It's not necessary this Russian I understand... Feeling the same way...

On the Train

Nice Cabin! Two single beds, isle in the middle with little table in between.

I purchased two tickets to have private cabin. Probably wasn't necessary. Not many people in this class and probably would have been solo. But wanted to insure it, more for security and peace of mind than anything else. I take a stroll down to the other cars and figure out that it looks like there's 3 classes of cars. One is all double bunks end to end. The other is cabins similar to mine, but 4 bunks each, stacked. Then mine with 2 beds side by side without bunks. I'm next to the dining car and get reasonable service there. Biggest disadvantage is the menu is only in Russian. As you know I don't speak Russian and as far as I can tell I'm the only guy on the train speaking English. So it's back to miming for my breakfast, lunch and dinner.

Flap my arms for chicken, push my noise up and make snorting noises for pork and mooing for beef.

I finally get to bring out my Jack Daniels, enjoy and relax. Just before going to bed the steward in charge of my car reminds me to lock my cabin door! Someone in the night could come and... She makes the pounding of her fist movement to her own face :) and take your wallet while miming, slip her hand into an imaginary pocket. Good night, sweet dreams :)

Slept well, (thanks Jack :)

Woke up a couple of times during the night to look out and see snow and mostly now rain. Now around 9 am and it's all rain. 3 or 4 hours later, I check my GPS and I am actually about where I would have been if I had left Chita one day earlier? Weird huh? It's almost like I'm "time traveling" No I'm not tripping:) but I am after traveling by train all night I am literally where I would have been by bike after two days of riding and the weather isn't that bad:(

Now I want off the train and rescue my bike from boredom of the truck. Stand by the side the road and flag down trucks till I find my bike! Ok... Back to reality. Gotta quit tripping! The fact is its still snowing in Chita. I probably would had to have stayed two days there and now the weather front would be here? Or not? Can't predict the future or the weather just live in the moment! And this moment ain't so bad!

3pm now, sweet little buzz... Jack and chocolates... :)Feet up on bunk, nice pillows, watching the Russian country side pass by from my cabin on the Trans-Siberian railway! Check one more thing off my Life Bucket List!

Mucho
Train life!
Read More
The Trans-Siberian!!
The longest train trip on the planet. Stretches from Moscow to Beijing or Moscow to Vladivostok. The nice cabins I described earlier now feel like the walls are closing in on me as I speak! I also mentioned that this excursion was on my bucket list... Well I'm happy to tell you that I got just about all the Trans-Siberian experience I needed and more! Bored to death! I think if you're planning on making this journey you should do it with someone you can spend this kind of time with. Movies on your iPad would change everything. A couple of good novels and some snacks. There is a hot water dispenser in each car so bring noodles in a cup and some coffee and tea. You could also bring some freeze dried back packing meals. I did just that to supplement.

The scenery hasn't changed since Chita. It's still raining and there's no shower on the train! Today is day three for me doing the wipe down of all the regular spots while trying not touch anything in the restroom. Although, I did learn one thing about trains in Russia that I would have never ever imagined. The toilet drops right onto the tracks! No BS! When you flush your business it goes straight onto the tracks, TP, ass gasket and all! You can see it drop! Because there's nothing to do you can't help but ponder...So it makes you wonder all those people traveling all those miles. Let's just say there is about 300 people on train doing their business once a day. For the 12 days from start to finish = 3600 deposits per train per trip or about one per kilometer. Now figure that each train can do probably 2.5 trips per month now that number would be 9000 deposits per train per month! There are at least two trains on this route daily and two on the Beijing route daily for a staggering 36,000 deposits per month. What happens when you're at the train station and someone inadvertently drop "the kids of at the pool?" Told ya! Serious cabin fever! Happy that I didn't pay for the whole experience from Moscow. This little ride is just plenty. I rode on the Trans-Siberian. Task completed. Good enough for me!:).

Not to belabor the point. But here are a couple of other reasons this is not the way to travel for me. No temperature control. They have little windows down the hallway but the minute you open one, the attendant walks right behind you and closes it? It's hot all the time. So much so that people get down to just there underthings. Remember no showers, so everyone is fermenting. Then there is the food. Because of my own inability to communicate in Russia the meals are always a crap shoot. So you say order something simple and stay with it. Problem is by the time you figure out what you like and can eat it at every meal they run out. So then you start over till they run out of that and so on. Eggs that's what I'm on now. And they are good! Something about eggs outside the US? Chicken also for that matter. I think we have just over hormone em' or maximized production to a point of if it looks like an egg, but doesn't taste like anything so we put ketchup on it. I have had them scrambled, fried, boiled and poached. Just like "Bubba" and his shrimp "I like me some eggs" Believe it or not… I have not spoken one word of English in three days. Nobody, and I mean nobody, has spoken one word of English. Extremely difficult for me if you know me:) I need to communicate!

Ok, enough of all that!
The train will arrive late tonight in Vladivostok. So I'm staying at the Grand Hyundai, really. Just one night cause tomorrow I'm going to fly 3 hours to Seoul, South Korea. I'm always looking for a new stamp in my passport and I have been to every country in Asia but Myanmar, formerly Burma, and South Korea. So since I'm in town early and my flight doesn't go until the 15th and bike doesn't arrive tillTuesday I'm gonna take a flight to Seoul and stay at the Intercontinental Hotel for a couple of days and see the sights of Seoul, maybe rent a scooter? Then back to Vladivostok get the bike shipped and fly home! Also, just need a change of scenery :)

Tomorrow, Seoul!
She smiled and said hello!
Read More
Outa here!
Missed breakfast at the Hotel, as usual :) slept in and packed my gear for plane travel. Knifes, fluids, etc. all in the checked bags. Hotel arranged taxi, always good. Head to the airport with nice taxi driver. He recognizes my BMW tail bag, as he also owns one, and shows me a picture of his bike on his phone. So we're immediately bike buddies. Almost an hour to the airport so I get to see all of Vladivostok. Then airport check in, get in the wrong business class line and get usual Russian reception. "Get the fuck out of my line you stupid American!"

Then... I get in the correct line for Korean air and then ... That aaaaaaaa sound. The woman actually says to me... "Good afternoon!" And smiles!

I can't believe it! I have been saying these very words for the last 14 days! Absolutely no one has returned the greeting... or offered. I'm back in civilization! And it's Korean Air!! Now you don't know but I'm actually horrified to fly Korean Airways! I read a book once recommended by my daughter Jessica about Cultural differences and management styles. It basically documented that Korean Air pilots are "kings of their Ship" so to speak. Even when the Co-pilot informs the pilot that they are about to fly the plane into a mountainside the pilot doesn't acknowledge and just lets it happen cause he can't be bothered by the stupid in-superior co-pilot... and the co-pilot will not question his superior.

Next, it's Immigration, pissed off Russian woman who actually processed me without ever looking at me. In fact, went out of her way to never acknowledge me in anyway or fashion. Then Security line. What I know after 100's of airport security checks is that no matter what remove everything even when they say "no need" so you don't need to take your watch or belt off or shoes and then the buzzer goes off! And it's a full pat down search and I go to the little room for the "extra treatment" So then how about a Latte before the flight? At the little kiosk by the gate. One last reminder of the lovely hospitality of the Russians. RBF to the max! Perfected! Not just me but every person who walks up. Surprisingly her tip jar is empty. Just one more reason for her to hate the tourists who are actually responsible for her even having a job? She'll never understand that she is responsible for the outcome. It's so easy to just keep on hating.

As my good friend Chris Carter always says when he wants to change subjects politely... "Anyway..." We board the plane and its more thank you's! and welcomes! and smiles! and my appreciation returns theirs... back to civilization!

The kindness continues! On the plane people are saying please and thank you! It's a miracle! I have almost come to except "Nyet!" And the stink face as acceptable... I guess after so much of it, "it" just becomes acceptable? I don't really know? What I do know is that I am so happy to be leaving Russia!

After over 40 countries and a lot of experiences, I have never been happier to leave a place than I have Mongolia and Russia. Tried very hard to assimilate in both but just never "found" it? Please don't get me wrong! I have met some wonderful people in both countries! Some that I will never forget as the most rewarding I have EVER had. Just that the majority of experiences with the majority people have been have been disappointing. I'm not sure but to stereotype an entire county is never correct, but I have a saying "that stereotypes are real!" Otherwise they wouldn't BE stereotypes? Ok, only had a couple of real interactions, but not because I didn't try. I just think that they don't care!

Great flight! Exchange my Rubbles for Yen, find a nice Taxi driver who drives twice the speed limit, cuts the one ride from the airport to 40 minutes. Check in at the Intercontinental Hotel went as expected! Perfect! Upgraded to suite on the 29 floor, with Club access no charge- just perfect. The hotel is located above the biggest mall I have ever seen called the "Coex". It's under the city and is 3 floors that seems to go for miles. I'm looking for a pair of jeans and I check 5 or 6 stores and the biggest size they have anywhere is a 34". This is Korea I giggle under my breath. You all know that they don't call me Mucho for nothing and 34's ain't gonna cut it. Then I see a GAP. Back in the states I avoid them like the plague. When I think about The GAP I see khaki pants with the elastic waist. But I'm desperate. I only brought 1 pair of jeans and 1 pair of shorts. No chance for laundry so my jeans are basically standing up in the corner on their own. Only small children wear shorts in Asian countries and never at the Intercontinental. So in I go and find a nice gay guy who says "yes we big boy size 36!" Well they fit and they look and feel so good!

I buy two pair, 1 black, 1 kinda rust color. He set me up with the matching geranimals set of pretty colors, some fresh undies and socks with little motorcycles on them. I'm now proud to say "I shop at the Gap!" but don't tell anyone! Mucho, Moto travel tip... Throw away your underwear every day. Who wants to carry around dirty underwear?? Just make sure you brought enough!

Back in time for free drinks in the club lounge and a great night's sleep in a wonderful bed. Nice easy, no drama day of travel. Maybe a little boring but sometimes that's perfect!

Tomorrow?? Find a place to rent a Moto or scooter and go exploring Korea!